A Product Owner is the voice of a product, the link between the client, the software development team, the final user, the stakeholders and the rest of actors involved in the development of a product. The PO understands the client's needs, conceives the product's vision, defines its roadmap, takes care of the user stories and prioritizes the backlogs, having the value proposition and ROI as elements to maximize.
The Product Owner is responsible for the communication between the different teams of the project. The biggest responsibility is product's vision and scope, taking into account the technical, marketing, economical, design and UX aspects. Transparency, communication and deliveries according to the defined plan are key to ensure project success.
Benefits of working with Apiumhub
Our POs have a technical background allowing them to be more effective with the development team when communicating business related concepts. They have the capacity to find a common language and lead the conversation with developepment and marketing teams. They're the bridge that unites the team with the stakeholders.
Our POs are entrepreneurs with experience in founding and developing startups. They're perfectly aware that a product is successful if it works commercially and that a project is limited by budget and time.
Apiumhub's priority is to optimize the release value as well as time to market to achieve ROI faster. Our POs manage the project's operations while simultaneously analyzing the strategy and scope of every version that must be released to market.
Design Thinking is the way our POs conceive the products, with an important component of empathy with the final client and other stakeholders. Our development process implies an early stage of feedback acquisition from the final user.
Our POs work side-by-side with our clients through constant communication, weekly delivery of demo versions and honest and realistic management of expectations.
Product Ownership Services
Integral Product Conception and Management
Market Release Management
Apiumhub has been one of the keys of our fast growth and success. Their professionalism and deep knowledge of tech development alongside their working method of being part of the team of the company they're working for: all of this combined makes Apiumhub a highly recommended option.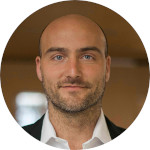 Octavi Royo – Co-founder and CEO at Agora Images
Product Ownership Projects