Hello, hello! Thank you for your interest in tech news, events, trends and tips! 
Tech news: July
1. Top tech articles of the month 
2. Top 4 tech events in Barcelona
Here you will find a list of top 4 tech events in June. Don't miss them, they are absolutely worth your attendance.
3.   Job offers in Barcelona 
If you are living in Barcelona and you are interested in changing your job, don`t hesitate to contact us. Let's talk!
What we guarantee you are professional growth, a second family, and exciting projects! 
4. Apiumhub participates in a panel discussion: "Path to Principal: Part 1 of Defining the Modern Engineer"
Our Principal Engineer – Alvaro García will take an active part in a Principal Engineer panel discussion to define the Modern Engineer, with confirmed Principal Speakers from Oracle, King, Sage, Netquest, Apiumhub, Typeform, and Glovo. Click here to register! 
Apiumhub organizes Global Software Architecture Summit ( GSAS ) – a one day summit which aims to connect software architects from all over the world as well as all those software experts who build working software and want to improve their skills, share knowledge, and connect with like-minded people.
We expect to welcome 300 software architects, who are passionate about useful, well designed, maintainable and scalable software.
The idea is to make this event as interactive as possible, where attendees could participate in discussions as well. There will be technical talks by leading software architects from USA, UK & Spain, panel discussions and debates! To see the Agenda, click here
The mission of the event is to:
Write and sign the leading software architecture manifesto for the next generation of developers and software architects in 4 years.
Grow the software architecture community, focusing on best practices, innovation, working software and practical solutions for current issues.
We still can't believe how lucky we are, look who will come to Global Software Architecture Summit: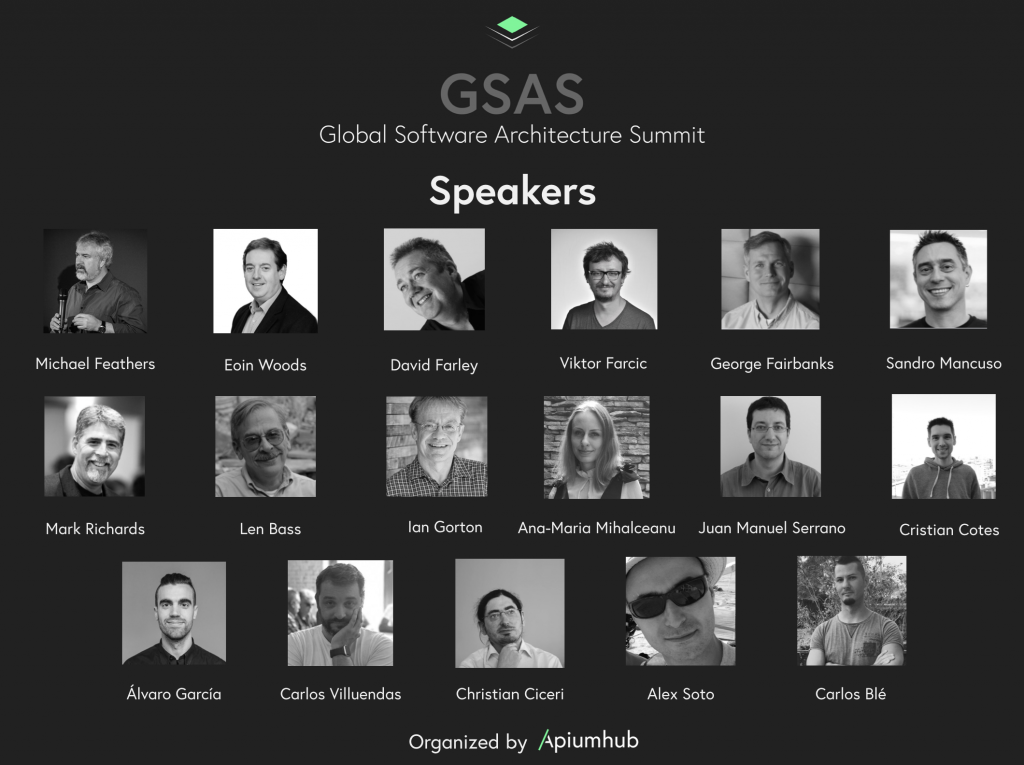 -> Right now we have Regular Tickets ( Available till 31/07/2019 ). To buy them, just click here.
-> And to request sponsorship information, click here. 
Meet the heroes who make this event happen:
6. Apium Academy courses
We are proud to share with you that Apiumhub contributes to Apium Academy. And we have started to form the groups ( max. 30 people ) for our upcoming courses. Hurry up! If you are interested in knowing more, let us know! 
Also, you can request your personalized course! To know more, visit Apium Academy website.
7. Testimonials
We are happy when our clients are happy! Let us share with you some of the testimonials that we received:
"It has been a pleasure to work hand in hand with the Apiumhub team. They have met our expectations and launched a robust web platform ready to scale in just 6 months. His team of software architects, DevOps and Front & Back programmers used the best practices and showed their professionalism " – Santiago Vernetta -COO & Co-founder of Carnovo



"Apiumhub has been key to our rapid growth and success. Their professionalism and deep knowledge in software development together with their way of working as if they were part of the team of the company for which they work for, make ApiumHub a highly advisable option from the experience that AGORA images has had with all of them" – Octavi Royo – CEO & Co-founder of Agora Images 



"Apiumhub is a synonym for quality and predictability. The team is highly qualified and decisive. We haven't found any challenge that they couldn't overcome"  – Pau Borrell Sorroche – Product Owner at Privalia



"I am quite happy working with Apiumhub because I enjoy working with Agile methodologies as well as working with a company of that size. They can quickly react to changes based on market demands, while always offering the best talent for those technologies. Other than that, the team comes with a big dose of positive energy and enthusiasm to grow and improve the customer's satisfaction, by thinking creatively and looking ahead." –  Gerardo Gómez – Mobile development lead at Adidas



"We had a new & important project related to mobile and usability, and we wanted to work with Apiumhub. They became a key partner when it comes to delivering our solution to the market, but also adding value to the process and adapting to the project's amendments. Pragmatic & efficient, the team always maintained an opened dialogue and attitude that allowed to overcome all the obstacles." – Mariona Campmany – CMO at Icar



"We believe that Apiumhub has a highly qualified team specialized in software architecture and software development. They helped us introduce best practices to the team and enabled the applications to evolve safely in the long term. Other than that, they are professional in infrastructure automation, architecture documentation, system migrations, TDD, DDD and CI implementation. We have a long-term collaboration with Apiumhub and we are very happy about it because they focus on scalability, performance and cost reduction." – Ricard Bernat Martinez-Hidalgo – CIO at Dexeus


"Our experience is very positive and we hope to continue collaborating with Apiumhub". – Xavier Montesinos – IH Software Project Manager at Grifols
8. Stay updated
We publish tech news, articles, jokes and news on a daily basis. Follow us on:
Thank you and have a great day!! 
If you found our tech news interesting, you might like…